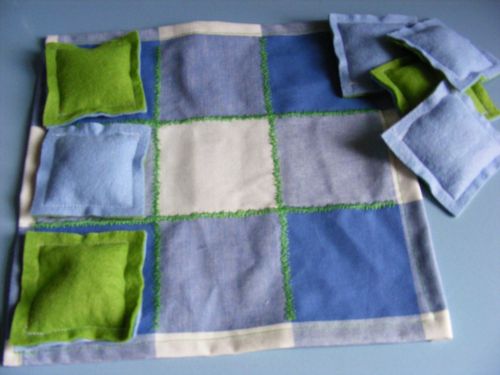 I have been continuing with my plan to make as many presents as possible this year, to keep costs down and also to reduce my fabric mountain. And of course because I believe that handmade gifts carry with them the love and care that went into their creation. 
This is a game I put together for one of my nephews. A noughts and crosses board from large checked fabric with a zigzag stitch playing area marked out and felt counters stuffed with soup mix. You be green and I'll be blue! A drawstring bag and stamped label finished it off.
I'm finding it hard to come up with ideas for men, what do you knit or sew for men? I'm also making ahead so presents are ready and waiting for the weeks following the baby's arrival as I think I might have my hands full!
Unless I can work out how to knit while feeding.I think I learnt to pretty much feed while asleep during night feeds with My Little Helper, all went well apart from the time I awoke with a jump sitting up in my bed in the wee small hours and to my horror had lost the baby. Was he suffocating under the covers? - no, of course he was back in his cradle, just where I had put him before falling back into bed.  I always felt there was something magical about feeding in the silence of the middle of the night, the world around me sleeping and only us awake. Peaceful, mindful ,nourishing for both of us.Mothering at it's best. I still can't quite believe that I'm lucky enough to have that gift again, soon.