I think it's common to remember the negative things or to let the bad things carry more weight than the good, so I have been mulling over last year reflecting on where it took me. When I discovered how wonderful it was to share my passion for creating with other people and set up French Knots Craft Studio I had no idea how many lovely people would come to share it with me bringing their enthusiasm and willingness to learn and share.

When the room came available it was too good to miss even though I didn't really have the time to set up a business, and still don't! Marketing and advertising are still the hardest thing but as I've taught 85 people since March I hope the word will spread. Being able to let people use brand new Pfaff sewing machines, hosting a charity open day and sending off dozens of handmade bracelets, working with other talented tutors, designing new workshops to introduce people to new skills and making a website (still the most gobsmacking feat for me a technical numptie!) Learning to keep accounts is still a work in prgress but I've got my tax return filled in.Phew!
So this was an amazing end to the year -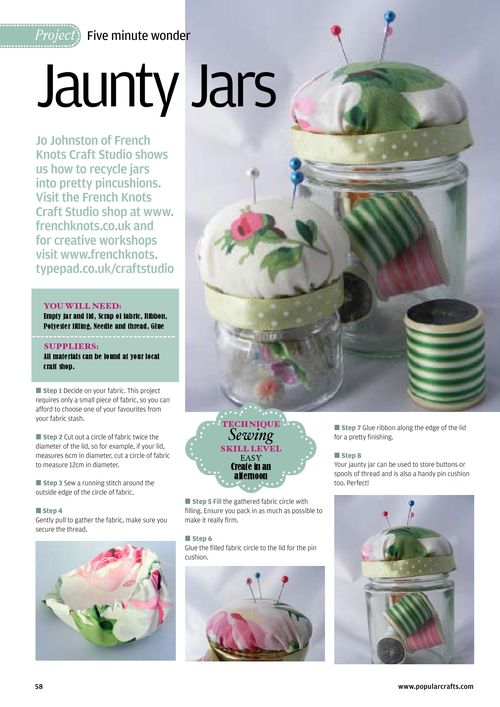 my first published tutorial in a national magazine! So exciting I still have to keep looking at it :) And there's going to be two more in Popular Crafts too! As I took the pictures I couldn't really believe that my little jars would be in print but there they are. I love the thought that perhaps other people are making little pin cushion jars of their own.
For 2012 I've got some new workshop ideas, will be collaborating with some new tutors at the studio and have some blog and website plans too. Tutorials and tips, book reviews and an occasional interview series 'Meeting....' asking some talented crafters about their passion and inspiration. Oh and kits too, I've a design in my head just waiting to come out, and a couple of sewing patterns I'd like to get out there too. Good job The Baby Brother is at playgroup for two hours twice a week - without 4 child free hours a week I don't think I'd get everything done!!!