7 days of specialness to cheer up grey February days - Thank you Ali for such a good idea, it has cheered my mornings up no end having a special parcel just for me.
My swap partner was Dottycookie so I read through some of her past posts to get an idea of what to send, trying to choose something she would like! Her parcels to me were wrapped with shades of pink tissue and pretty ribbon and showing surprising self control I only opened one each day, if only I could have the same measure of self control when it comes to the biscuit tin!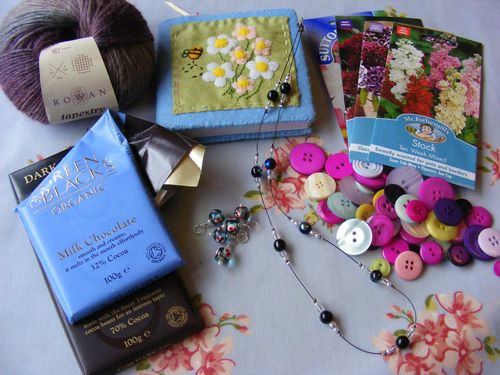 Just look what she sent me - buttons and beads, chocolates and seeds! A pretty felt covered notebook, just right for lists instead of the back of an envelope. I'm going to clear a patch on my allotment to make a cutting garden for the seeds, the chocolate seems to have been nibbled (ahem!) and have you seen the lovely colours in the wool. It's lovely heathery shades, I've not decided what I'll make yet but will have a look on Ravelry for inspiration - that's a couple of hours lost then!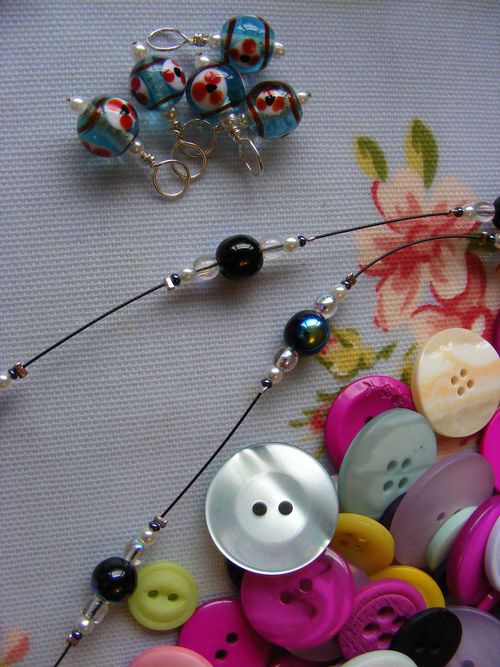 Look at the necklace she made me too, the iridescent beads really catch the light and once The Baby Brother has got past the 'use a necklace as a handle to hang on to Mummy'stage I'll be wearing it a lot as blue is my favourite colour. And the stitch markers, so much better than the buttons on safety pins that I normally use so sock knitting will be much more swish!
Thank you Val for being such a super swap partner!