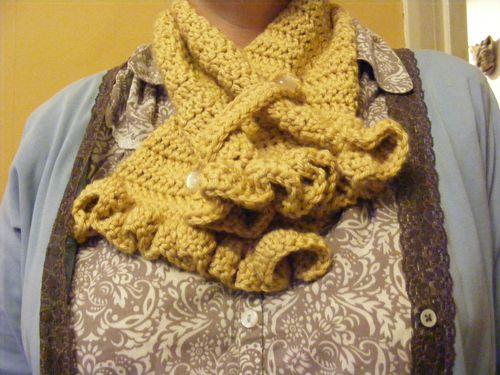 Thanks to My Little Helper for taking the photo
I think it was Chipper Nelly who posted the link to this simple  scarf. Just the right size for filling that little gap at the top of your coat and for keeping your neck nice and warm. I'd had a little trip over to Black Sheep where I had found some wonderful mustard coloured cashmerino, this was the perfect quickly hooked project to use it. Very satisfying trebling backwards and forwards, my wrist joints are painful at the moment so a speedy project is perfect. My ankle joints are pretty rubbish too but I don't need them for crochet!
Do pop over and have a look at The Compound Word Project, it started this week and you can play along by visiting and guessing what compound word each diptych represents. You can email Ali with your guesses at the end of the week and might even win a prize. You'll have no competition from me as I lack the gene for anagrams, puzzles and the like.