.....what have I been doing?? Do you ever feel that the more days that pass since your last post, the harder it is to write one?  Of course I have written several very witty ones in my head!
Thank you for your get well wishes, I'm much better now but it seemed to take ages to shake it off, perhaps as you don't really get time to be ill or recuperate with three children. So I feel like January has slipped through my fingers and my usual 'clean slate what shall I plan for the year' approach has missed it's boat.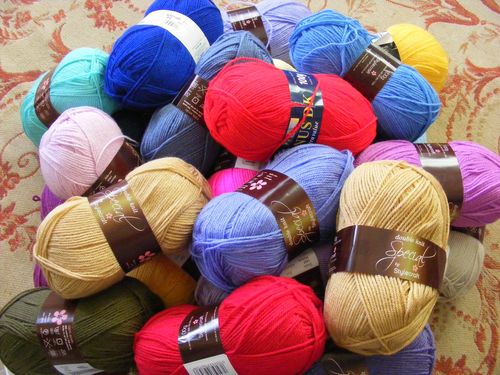 So what was the excitement I mentioned in my last post? Well I have been asked to run some workshops at a lovely local ceramics cafe, I'm excited and a bit scared! A bit woo hoo and a bit aaarrgghh too!When you have been at home for a while it is hard to be brave and sometimes I can't believe I ever did the job I used to - it gives me the cold sweats just thinking about it!
So I shall be presenting a 2 hour Learn to Knit session and a 2 hour Granny Square workshop too. The wool mountain above is for the Grannies, lots of cheerful colours to inspire my ladies and I'm going to teach the new knitters how to make some simple ribbed hand warmers with this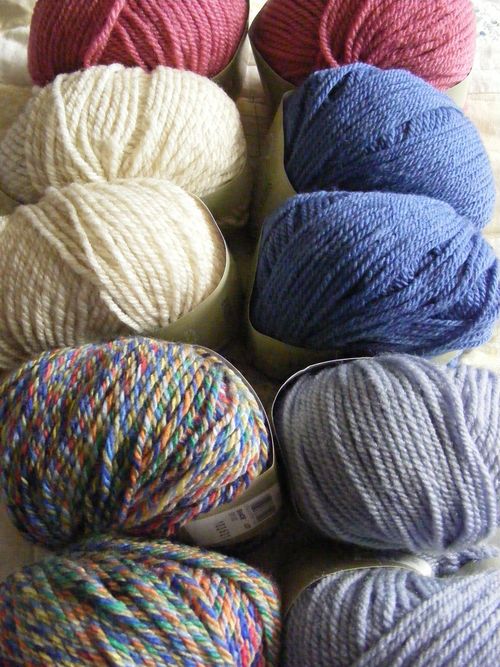 Quite a few bloggers have been choosing words for the year, something that resonates with them and their hopes for the year ahead. Mine would be 'try' or 'dare' I think, whilst to people who know me (in real life) I seem chatty, confident and together the changes that have taken place in the four years that I've been at home  make me feel like hibernating at home, safe, cosy and unthreatening. So I'm going to say 'yes' to things this year and dare to give them a try, be more impulsive and have some fun.
And if something I try doesn't work out......well at least I had a go.............and there's always wine!