The Baby Brother is on his fourth cough and cold combo of the year and getting teeth number 7 and 8 as well, poor little lovie. Roll on germ free summer days!
I have sustained a craft related injury - crochet finger. As I've been working like a dervish on the ice cream blanket my little finger has stiffened up, I've been using it to control the tension and it seems to have been too much work for such an underused part of my body. Not that the rest of it gets much exercise!

 The Granny squares have been joined to make larger squares with a border of three colours round them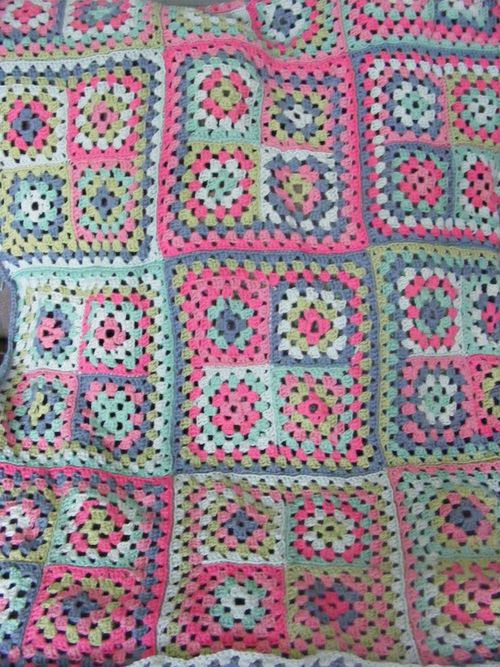 and I'm just finishing of a border round the whole blanket, one row in each of the six colours. It's lovely and cosy having it on my knee while working on it. Once the border is finished I'll just have seven hundred thousand loose ends to sew in! I'm really pleased with how it has worked out, my first crochet blankie.
I've squeezed in a bit of sewing too, some coasters for a present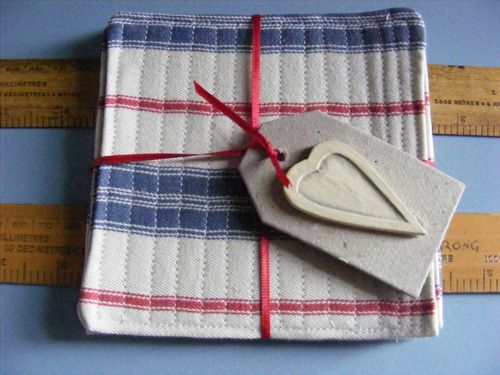 some old french ticking that I got at a textile fair years ago and have been saving....for what I'm not sure but as coasters don't take up too much fabric I still have plenty left so didn't come out in too much of a cold sweat when cutting into it!
My Little Helper had us in stitches the other day, The Big Sister is a huge JLS fan and he delighted in telling her it stood for Just Losers Singing! The fact that we all chuckled just made her even more annoyed!
Lovely sunny day again here, while The Baby Brother is napping I'm going to tidy up the garden a bit and enjoy the smell of spring in the air.