My world is starting to peep out from under it's blanket of white, there is a drip, drip, drip outside the window and the poor snowman's nose has fallen out. I might venture out myself, I've actually enjoyed being at home the last week or so and it's been great for saving money - no shopping trips = no spending, which is good for the bank balance in January.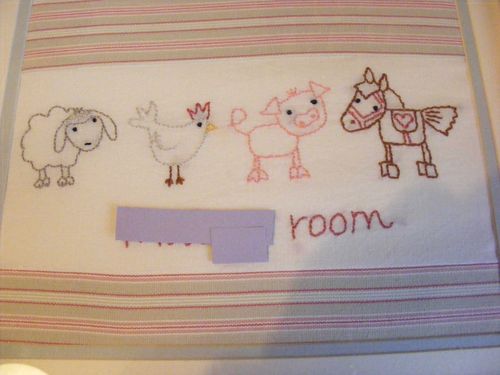 Here's a little picture I missed off my last post. The Baby Brother was given a present wrapped in such a lovely wrapping paper, sweet, naive drawings of animals. I copied them with my magic water soluble pen onto linen and embroidered them. As the piece of fabric I'd used was too small for the frame ( great planning) I stitched some stripy fabric top and bottom to make it larger before I laced it onto the cardboard for framing. I'm rather pleased with the effect.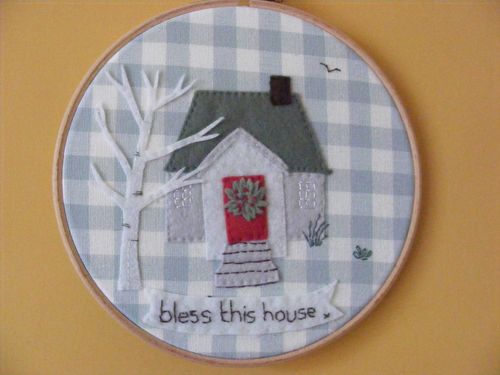 Isn't this amazing?! A sweet little house hand stitched in felt, just look at the size of the leaves in the wreath on the door! Made for me by the talented Amanda. Talented and currently bed bound with flu poor love.
With the children finally back at school and Mr FK back at work the house seems rather empty this week. While The Baby Brother has his nap I've been exploring and have some 'new to me' finds to share - have you read these?
I know you'll need a few more blogs for your Bloglines! Well the pc has crashed twice while I've been typing this so I think it's a hint to go and tidy up the house a bit or at least run the hoover round so The Baby Brother doesn't eat too much fluff when he's rolling about on the floor!