I have been reading the forums on money saving expert for tips and ideas and have found a thread about finishing off leftovers in the Money Saving Old Style section, which is basically an area of the forum about being thrifty, a bit make do and mend. I've been trying to use food up before it gets past it's best, especially fruit and veg, to cut down on waste. Usually there are a few oddments rolling around in the fridge and pantry, today I had cheese and some french bread that needed using up. Cheese sarnies, while tasty, wouldn't really cut it for dinner.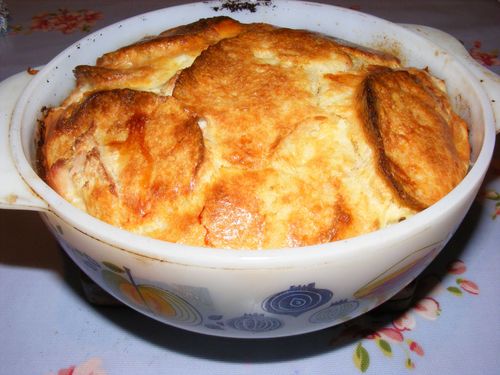 So I grated the cheese, melted it into milk, added a few beaten eggs and poured to over the thinly sliced bread. A sort of savoury bread pudding.Very tasty served with beans, the children wolfed it down!
Has anyone noticed a problem with Typepad comments? They seem to have changed things, not for the better of course. When someone leaves a comment now it often takes me to their profile page which doesn't always have a blog/email contact so it's hard to reply. Having a conversation with you is half the fun,no I don't like change!